Article 2013-05-11 Friends Arena, Solna, Sweden
Thank You For Being Part Of Your Life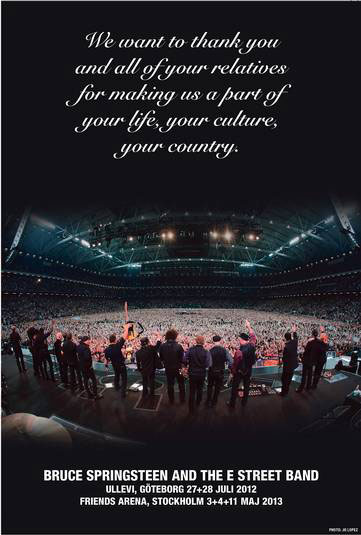 Bruce Springsteen, 63, has left Sweden. But not without a salute to the Swedish people. In today's Aftonbladet, the Boss surprised everyone by buying a full-page ad to thank Sweden.
"We want to thank you and all of your relatives for making us a part of your life, your culture, your country", he says in the ad.
The idea came from Bruce Springsteen himself. On Saturday night, the artist was moved by the reception he has received in Sweden over the years.
"The idea came after these three concerts. He wanted to show his gratitude to the Swedish people. It has just been extraordinary, the reception and the number of tickets sold," says Kristofer Akesson on Live Nation.
Springsteen's ad notes the 2012 concerts in Gothenburg, as well as this recent Stockholm run.

- May 13, 2013